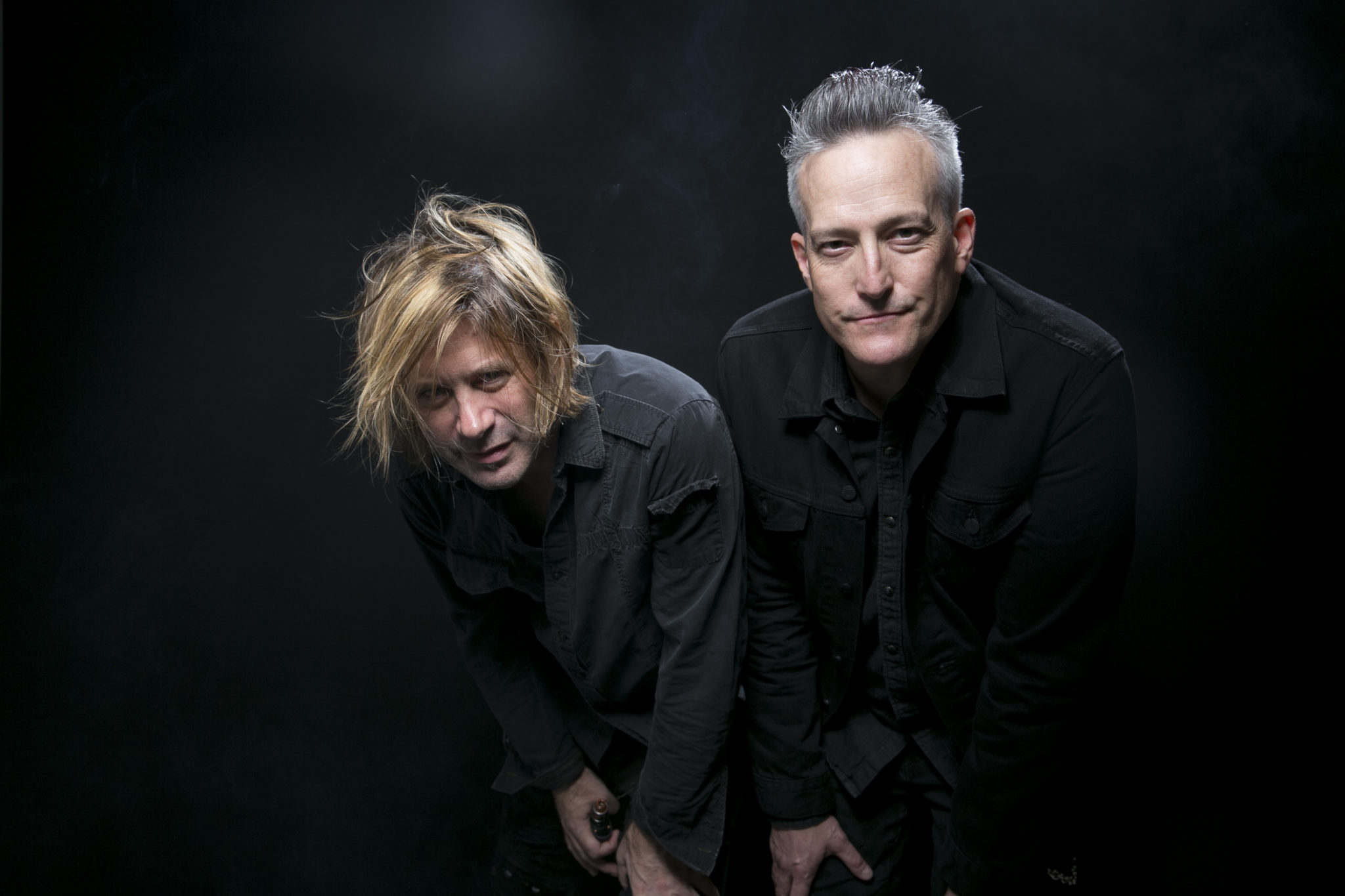 CURRENT BIO / MISSION STATEMENT
Filter was thrust upon the musical landscape not with a whimper, but with an inimitable scream of musical ferocity and intent.
It's back.
For the first time in over 20 years, the original founding members Richard Patrick and Brian Liesegang are making a new FILTER album together.
The duo's multi-platinum debut "Short Bus" took pride in its drunken, unbridled rambunctiousness, combined with some cherubic intellectualism and social/technological agenda.
It was a place where melody met noise. And it was written, recorded and produced by two kids who hated everything from "social norms", defining generational tropes, "the man", and being told what to do and how to do it.
They rejoiced in the chaos. They swam in it. And they lived and performed it like brothers.
And like brothers, and two who were brought together by Nine Inch Nails, they fought, and the nonsense of youth gave way to senseless acrimony, ultimately driving and conspiring to push the two apart.
All good. It happens.
But then a lot of other things have happened. And a lot of water has gone under many bridges.
Tick damn tock.
Richard has successfully led and spearheaded Filter for the last 20 years, releasing many platinum records (including "Title of Record", "the Almagamut" etc.), and while the two have remained friends (and more importantly been there for each other in times of need), they have worked on and composed music and productions ranging everywhere from Richard's side band "Army of Anyone" (with the DeLeo Brothers of the Stone Temple Pilots and Ray Luzier from Korn), and many others, to Brian working with many others spanning from Billy Corgan (Smashing Pumpkins), Sir Paul McCartney to the Dalai Lama, etc., and the two of them have been scoring and contributing music for many motion pictures, video games, television shows, commercials, and different technological endeavors.
Recently, on a "blind" set-up, they were challenged from the stage in mid-performance by their mutual friend Louise Post of "Veruca Salt", who stopped her concert to admonish them"…to bury any bullshit, forget the crap, and get their shit together". The two had an interesting conversation on the drive home together.
It appears that perhaps time, circumstance, and the stark reality of modern events have indeed driven Richard and Brian together again to do what they do best together.
What started as an experiment to see what "might happen", the two have rediscovered not only their friendship, but their unique 'yin and yang' complimentary working style of no rules and "whatever works" (because sometimes you just don't wanna know how the sausage is made).
Forgotten are the specious reasons as to why they stopped working together, as those are things of the past, and the future is far more important.
While the melodic reckless abandon remains intact in their musical creation, the lifestyle of irresponsibility and not being held accountable to reality has been replaced by a work ethic of waking up early and getting down to it. They are driven by a mission statement to not only get the noise across as they do uniquely, but with extreme assertion and urgency, as they played by the rules and got fucked…and as Neil Strauss once said about them in the New York Times…."It's anger, so they scream".
Filter right now is making a call to arms. Recording a sonic melodic punch in the face. This doesn't have to be the end of days, as there is still time to do something about it.
The music Filter is making is not a mandate against conservatism or the right. And the music Filter is making is not a mandate for liberal left sweeping agendas. Filter doesn't care if you are a Republican or a Democrat or an Independent.
Filter simply advocates and encourages active thought and participating in changing the world we all share together. Decisions are yours to be made. Please just make them well informed.
Ultimately it appears Filter is reacting to the same damn societal apathy and confusion they felt when they first started the band.
Hence "reBus". Time to bring this shit back to sense. We don't all have to agree….but we can agree to disagree without insanity running rampant. And we can show respect for all humanity and the world we are bringing children into. Filter has no interest in revisiting a halcyon past of yesteryear, and this isn't a reunion of sorts. This is a shared focused undertaking. A sort of homecoming.
This album is sonic outrage in the face of sheer idiocy. It is expressed incredulity to events transpiring in what could rather be a damn amazing time of opportunity, change and understanding. Seems instead we inhabit a world gone wrong in ways that even fiction has failed to venture or imagine.
There have been MANY amazing musicians and contributors to Filter over the years, too many to mention properly and with all due courtesy. This 'back to basics' and rediscovery of the original DNA of the band is not an insult to any of those valued and respected people. Richard and Brian have just decided with this album to distill it down to themselves for better or worse. Play to their strengths and weaknesses, as that was often their unique gestalt in the maelstrom.
The two disenfranchised young men who met each other in Nine Inch Nails and had shared an epiphany together at the Grand Canyon are back.
Where it all began
Shoving a fist in the face of tradition has been Filter's modus operandi since the release of their self-produced debut album, Short Bus. The album's rough-around-the-edges production consisted of inebriated answering machine samples, lavish bass lines, and jagged guitars set to a backdrop of drum machines punctuated by the unfurling of Richard Patrick's vocal prowess and signature roar. Patrick, Filter's magnetic, profoundly intelligent nucleus and frontman jubilantly admits that his creative process is unorthodox, whether he's staring down and conquering new technology or coalescing with new bandmate and co-conspirator Jonny Radtke on Filter's current release, The Sun Comes Out Tonight.
Patrick believes in adapting and improvising in the name of achieving results, fully aware of what he's rebelling against. He addresses his unconventional methods with utmost conviction in his voice, "Let's break the rules, let's put a finger up to the establishment and do something wrong. If William Shakespeare was alive today, he'd be using a word processor. He'd be copying and pasting. Does that change things? Yeah, but at the same time, it's flexible and different. It has to be done." This perspective is evident on The Sun Comes Out Tonight's lead single, "What Do You Say," an explosive track featuring Patrick's rousing howl, hypnotic synthesizers, smoldering guitars, biting lyrics, and the triumphant resurrection of the pulsating drum machines that cemented Filter's reputation for delivering a distinctive sound unlike any other band in existence. Patrick laughs, "It's all drum machine, just like Short Bus! I like that we're getting away with something that's wrong. There's almost this notion that someone like Skrillex is less of a talent because his music centers around making a computer do incredible things. Music is an interpretive art form."
"The Only Way (Is The Wrong Way)" isn't merely a stand-out track from 2002 release The Amalgamut, it's an integral component of the career Patrick has fabricated with Filter as a truly capable multi-instrumentalist and vocalist hell-bent on releasing top-notch material and delivering electrifying, intense live performances. Patrick's many collaborations and side-projects have transcended the boundaries between rock, industrial, and electronic music by utilizing the talents of musicians Trent Reznor, Robert and Dean DeLeo, Ray Luzier, Josh Freese, John 5, The Crystal Method, Danny Lohner, Clayton Worbeck and Wes Borland.
The Trouble With Angels, Filter's inaugural venture with producer Bob Marlette culminated in Patrick cleaning the slate and solidifying a new live band line-up before embarking on tour across North America and Europe in support of the album. Filter's affiliation with the organization Stars For Stripes allowed the band the honor of entertaining US troops on military bases in Kuwait, Iraq and Cuba's Guantanamo Bay Naval Base. Patrick, a fervent supporter of the men and women serving the United States, takes immense pleasure in meeting and performing for deployed fans; he and his bandmates gained deeper insight into the lifestyle those serving face on a regular basis when the band survived rocket attacks in Kirkuk, Iraq.
The Sun Comes Out Tonight heralds the return of Marlette in the roles of producer and co-writer, and marks the introduction of Filter's newest addition, co-writer, and guitarist, Jonny Radtke. Hailing from Chicago, Illinois, Radtke's rapturous vocals and elegantly furious guitar playing mesh expertly with Filter's ambiance. "Jonny is the little brother-slash-guitar player I never had, he's just incredibly talented," Patrick affectionately admits. "Because of his talent and my connection with him, it was such a joy to make this album, it's a very inspired record. The chemistry was there. I really can't say enough about Jonny." Radtke's own predilection for rebellion and versatility are hallmarks of his own one-man musical project, the ethereal Polar Moon. Prior to joining Filter, Radtke's guitar stylings were best known for gracing the stage with his previous band, Kill Hannah, and the live incarnation of Ashes Divide, led by Billy Howerdel of A Perfect Circle.
Patrick proclaims, "It's a new guitar player, a new label – we're so grateful we signed with Wind-up Records, [label co-owner and Chief Creative Officer] Gregg Wattenberg is so supportive, the label is amazing; it's a whole new idea. It was so easy to be angry on this record, there are songs about betrayal and pure evil, there's so much heavy stuff [on this record] but there's moments of light, songs about happiness and love. It's our analysis of the human condition."
Tracks "What Do You Say", "This Finger's For You" and "We Hate It When You Get What You Want" seethe with vicious guitar riffs, blasting beats, Radtke's lilting background vocals, Patrick's gruff delivery, and captivating choruses that were made to sing along to. "With our first single, 'What Do You Say,' it's about all the noise – noise from the media, people talking and having so much to say but not really listening," Patrick thoughtfully states. One of the album's brightest moments of light comes courtesy of the shimmering, euphoric "Surprise," a track reminiscent of the delicate song structure that made runaway hit "Take A Picture" one of Filter's most beloved offerings.
The whimsical "First You Break It" draws you in with lush guitars and surging harmonies. The lyrics for "Watch The Sun Comes Out Tonight" paint an intimate portrait of Patrick's adventures at age 22 wandering around under the influence of psilocybin in the chill of Cleveland, Ohio late at night. "We'd search for things to look at, something that would trigger a profound thought of some kind," Patrick recalls, "I love writing about those times; I was young and angry but optimistic at the same time. Gregg Wattenberg took all of what he loved about early Filter and reminded me of it, he was like, 'you need to get back there and do what you do!', I've always been about pressing forward and stretching my audience's imagination but there's got to be a point of reflection."
The Sun Comes Out Tonight's synthesis of tools from the band's past and brand new attributes facilitate the stereophonic assault that only Filter circa 2013 can deliver.
Jonny Radtke
Jonny Radtke is a guitarist/songwriter/producer, originally from Chicago, Illinois. From 2000-2015, he was the lead guitarist for the alternative rock group, Kill Hannah. During his time with the band, he made two albums for Atlantic Records (For Never & Ever– 2003 release, Until There's Nothing Left of Us– 2006 release); a worldwide re-release of Until There's Nothing Left of Us for Roadrunner Records (2008); appeared on their 2009 Universal Records release, Wake Up the Sleepers; and toured extensively, both domestically and internationally, playing festivals, headlining tours, and opening for other popular acts such as30 Seconds to Mars, H.I.M, Smashing Pumpkins, Velvet Revolver, Alice in Chains, Papa Roach, Angels & Airwaves, and Lost Prophets. In 2009, Jonny moved to Los Angeles, and began working as the guitarist for ASHES dIVIDE – A Perfect Circle founder Billy Howerdel's solo project, as well as focusing on his solo project, POLAR MOON, (which several tracks from the upcoming album have already been successfully licensed through MUSIC DEALERS, and featured on several hit Bunim-Murray Productions tv shows, including: Keeping Up With the Kardashians, Married to Rock, The Real World, and Road Rules).  Currently, Jonny is the guitarist for the platinum selling rock band, FILTER. He co-wrote their 2013 album, "The Sun Comes Out Tonight" (released on Windup Records), with frontman and founder, Richard Patrick.
Instagram: @jonnyradtke
Twitter: @jonnyradtke
Facebook: Jonny Radtke